WE NEED YOUR HELP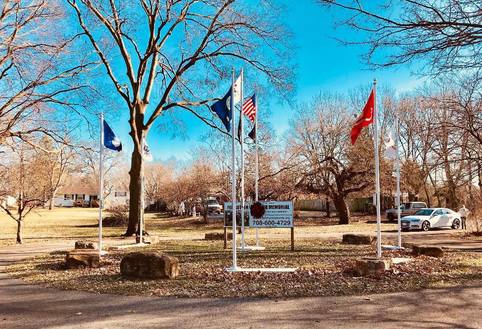 ​PLEASE HELP SUPPORT OUR VETERANS
Unfortunately, many veterans have already lost their battle with PTSD, and we feel it's our duty to honor their memory and service to our country. We are currently working with government officials to build "The Forgotten Warrior Memorial Wall" in scenic Channahon State Park. Representatives of several veteran's groups and associations have partnered with us to oversee completion of this project which is targeted for the spring of 2018.
WE NEED YOUR HELP
Whether it's helping a veteran with PTSD get a service dog, paying a heartfelt tribute to a lost veteran or just helping us raise awareness of these struggling and fallen heroes, we need your help! The important work we do is subsidized entirely by your donations and generosity. However big or small, your donation can help change the life of a veteran in need.
Donations earmarked for the construction of the Forgotten Warrior Memorial Wall will be held in a restricted fund and dedicated solely to that project (note "Forgotten Warrior Memorial Wall" on your donation). Please help make the Forgotten Warrior Memorial Wall a reality for our soldiers and their families!
DONATIONS
For online donations – use paypal or go to www.k9sforveteransnfp.org
To mail in donations - K9s for Veterans, NFP, 5430 West Roosevelt Road Chicago, IL 60644
As an IRS recognized 501c3 non-profit organization, all donations to K9 for Veterans, NFP are tax deductible.
For more information about the Wall, visit facebook.com/The Forgotten Warrior Memorial Wall or our website at k9sforveterans.org. You can also email us at
k9forveterans@aol.com
if you have any other questions about this important project.
"We now honor those who lost their lives to the war that continued to be fought after returning home. Statistics tell us that 28 veterans each day are compelled to take their own lives due to the trauma of war. They must not be forgotten. Please join us in honoring these patriots."
---


AS PUBLISHED IN THE JOLIET HAROLD NEWSPAPER

By MIKE MALLORY - mmallory@shawmedia.com

CHANNAHON – Channahon State Park will be home to a one-of-a-kind memorial for military veterans who have lost their battles with post-traumatic stress disorder.

The Forgotten Warrior Memorial Wall will be a tribute to all veterans who have served in the U.S. Armed Forces and have been afflicted with PTSD and sacrificed their lives beyond the limits of active duty. The memorial, expected to open in November, was funded through private donations to Chicago-based nonprofit K9s For Veteran Warriors.

K9s For Veteran Warriors CEO Michael Tellerino said it's proper to have memorials for veterans who lost their lives in battle; however, currently no memorials exist for the countless veterans who have taken their own lives while fighting another war at home – PTSD.

"How can we honor them for paying the ultimate price?" Tellerino said. "They come home with wounds you can't see. People don't understand how serious this is." One statistic Tellerino cited suggests about 22 veterans commit suicide each day, but that's just based on veterans who have registered for benefits. He said the real number is between 28 and 32 a day.
"That's not acceptable," he said. "We wanted to acknowledge that sons, daughters, brothers and sisters have not died in vain. We hope this will give some healing to their families and raise public awareness." The memorial, which will cost more than $80,000, will be constructed in an existing circular turnaround area of the park and be comprised largely of granite. Tellerino initially wanted to etch the names of each veteran lost to PTSD into the memorial, but said it would be an exhaustive process to get every name from the U.S. Department of Veterans Affairs. Instead, families will have individual bricks etched with their loved ones' names on a volunteer basis. He said that since announcing the memorial last week, he received a call from a woman in tears. "She was so excited about doing this," he said. "It's so long overdue for these guys." The organization chose Channahon because it has easy access from the Chicago metropolitan area and the specific spot in the park is perfect for what the architects of the project have designed.
The nonprofit also wanted the memorial to be relatively close to Marseilles, which is home to the Middle East Conflicts Wall Memorial along the Illinois River. Illinois State Parks and Recreation and state legislators have already signed off on the project, he said.
(Continued from Page 1)
"This one-of-a-kind memorial will provide a place for family members, other veterans, and the public to honor those service men and women whose injuries, while perhaps not physically apparent, were no less devastating," Channahon Mayor Missey Moorman Schumacher said in a news release.

K9s For Veteran Warriors provides service dogs to veterans with PTSD, along with medical care and food for the life of the dog.
Tellerino said that although it is not a cure-all, the initiative plays a major role in improving the spirits of veterans.

Visit http://k9forveteranwarriors.org/ to learn more about K9s For Veteran Warriors




A MESSAGE FROM MICHAEL TELLERINO CEO K9 FOR VETERAN WARRIORS